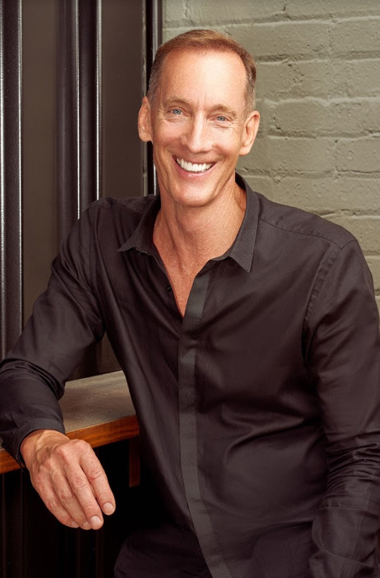 DUANE GREENLEAF – PROPRIETOR
Duane grew up in the Midwest with a heart for all things hospitality. He established his skills and experience with 20 years of executive food & beverage management as a Regional Director for American Golf and as the Food and Beverage Director at Surf & Sand Resort.
Duane Greenleaf acquired co-ownership of Colette's Catering & Events, a full service catering company based in Fullerton, California in 2004. Duane spearheads the catering business, working alongside all departments, and insures Colette's successful production and flawless execution. Today, Duane has taken his love of hospitality and ventured into the restaurant business with his first restaurant: Benchmark.
PEDRO ARIZMENDI – PROPRIETOR
Pedro Arizmendi was born and raised in Mexico. He grew up with a real passion for how food and community bring people together. With his experience in the bar industry, he then moved to the United States. He has always dreamed about having a restaurant where the health and happiness of his employees and customers were at the heart of every decision and recipe.
In the beginning of spring of 2019, Duane and Pedro with collaboration of Colette's Catering & Events' hospitality team, decided to create Benchmark- a place where people can gather together and enjoy great food.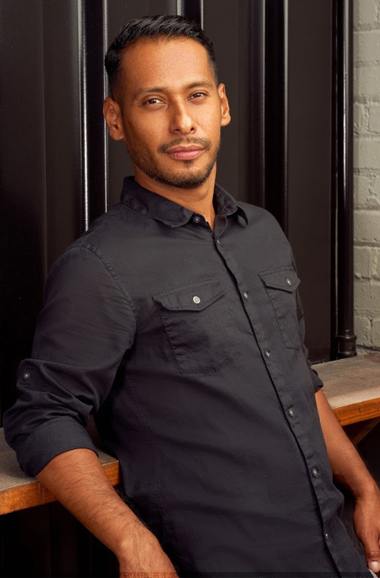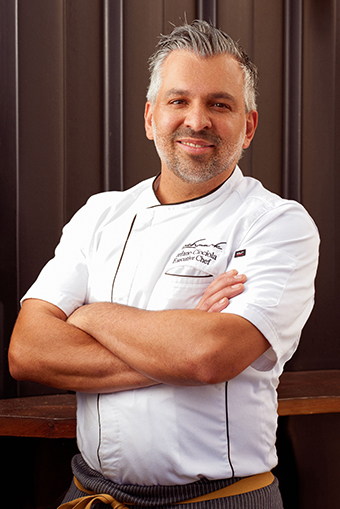 STEFANO CIOCIOLA – EXECUTIVE CHEF
Chef Stefano Ciociola grew up in Southern Italy, where he was influenced by the culinary beauty of his native country. His chef career began in Europe, specifically in Italy, Germany, and France. His first job in the United States was under Chef Roberto Donna at Galileo as Chef de Partie in Washington DC, and then with Chef Domenico Cornacchia at Cafe Milano Group as Sous Chef. One of his biggest mentors was Chef Bryan Moscatello with Stir Food Group, where he opened Potenza Trattoria. While there he created their renowned pizza recipe, as well as their seasonal gelatos and fresh pastas.
In 2010 he moved to California to work for Patina Restaurant Group, where he spent a majority of his career. During his 11-year tenure, Chef Stefano worked as the Chef de Cuisine for Naples Ristorante e Pizzeria, Catal, and Uva Bar restaurants in Downtown Disney. He cultivated his skills working in these upscale restaurants, and in 2018 he was promoted to Executive Chef at Tangata Restaurant in the Bowers Museum. He also was a part of the culinary team that produced high-end catering events like the Emmys and Governors Ball, as well as private celebrity events.
Chef Stefano joined both Benchmark and Colette's Catering & Events teams in 2021, where he oversees all concepts for the hospitality group as the sole culinary leader. Today, he is busy creating delicious seasonal menus, leading his teams, and working alongside the owners and directors with overall business development.
SARAH KUHLBERG – CREATIVE DIRECTOR
Sarah Kuhlberg was born and raised in Southern California, with almost 20 years of experience in the hospitality, branding, and lifestyle industries. While studying marketing and product development at California State University Fullerton and FIDM in Downtown Los Angeles, she developed a heightened sense of merging her love for culinary, fashion, design, and business. Sarah's experience comes from working for large restaurant groups, spearheading public relations and rebranding for an independent fashion company, and producing sales and marketing strategies for a catering and events group based in Los Angeles.
Sarah's true passion was found when hopping on board with Colette's Catering in 2014. She's collaborated and created content with local and national brands including Martha Stewart, Pop Sugar, In Style, Us Weekly, Sunset Magazine, and more. She was an integral part of developing Benchmark, alongside the owners and executive chef team. Currently, Sarah is putting her experience to work by contributing and implementing strategies for business development and company growth.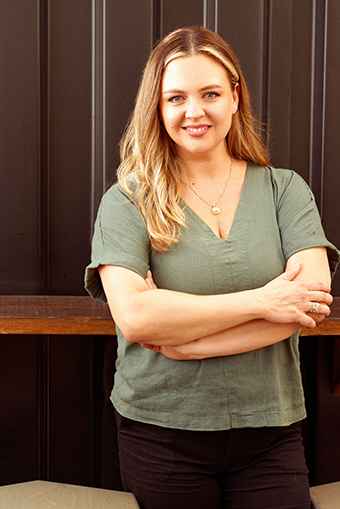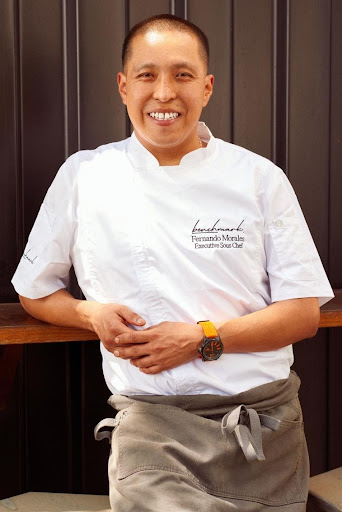 FERNANDO MORALES – EXECUTIVE SOUS CHEF
Chef Fernando Morales is a native of Mexico, where he began his love of cooking. In the early 2000's, he moved to Southern California where he first started in the restaurant industry. He honed his culinary craft working for Patina Restaurant Group, joining the Downtown Disney restaurant teams in 2010. While at Catal and Uva Bar, he moved his way up from line cook to Sous Chef.
Fernando joined Benchmark's culinary team in 2020, and was recently promoted to Executive Sous Chef. You can currently find him hard at work in the kitchen, not only in day to day cooking on the line, but also developing menu concepts alongside Chef Stefano.
BENCHMARK
601 E. Santa Ana Blvd, Santa Ana, CA 92701
T: 714.480.0225
HOURS
Wednesday 5pm – 9pm
Thursday 5pm – 9pm
Friday 11:30am – 3pm, 4pm – 9pm
Saturday 11:30am – 3pm, 4pm – 9pm
Sunday 11:30am – 3pm, 4pm – 8pm