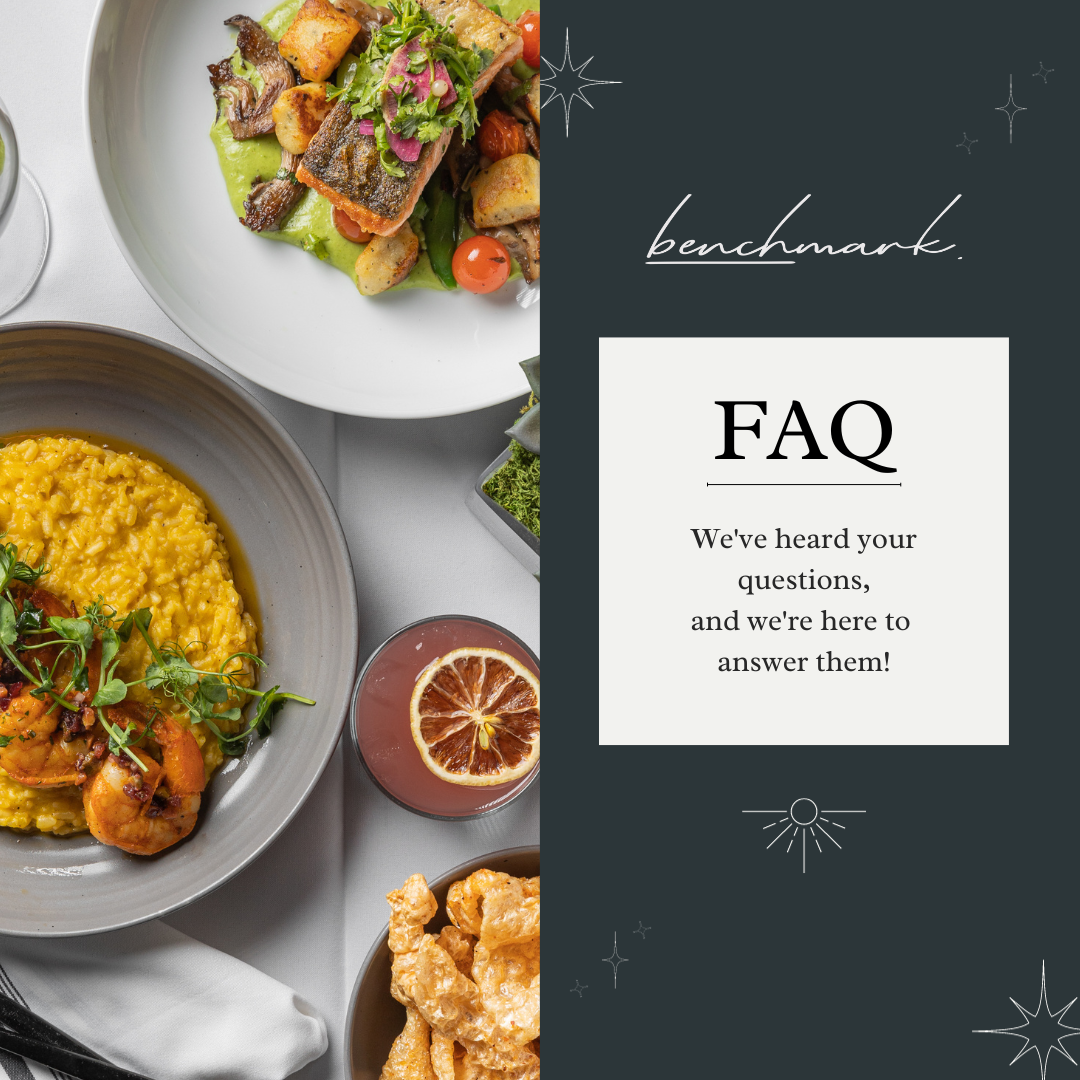 Question: What are your hours? 
Mon + Tues: CLOSED
Wed-Fri: 4-9pm
Happy Hour from 4-6pm

Sat: 11:30am-3pm, 4-9pm
Brunch only from 11:30am-3pm

Sun: 11:30am-3pm, 4-8pm
Brunch only from 11:30am-3pm
Question: What's the parking situation?
Benchmark has its own small private lot near The Backyard of the restaurant, however we recommended our guests to park at the Ebell parking lot (behind Hidden House Coffee) just a few steps away from Benchmark!
Ebell parking lot address:
715 Mortimer St. Santa Ana, CA 92701
Parking at the Ebell lot is FREE. Please make sure to give your license plate number to your server so they can validate your parking.
Question: Does Benchmark serve alcoholic beverages? 
Yup! We offer beer, wine, and sake infused cocktails. All of our cocktails are made with sake infused tequila, vodka, or whiskey.
Our cocktails change seasonally, so take a peek at our current beverages here! 
Question: Does your restaurant serve gluten free, vegetarian, and/or vegan friendly food? 
Yes! We offer a handful of gluten free + vegetarian dishes, and some vegan friendly dishes too!
Our menu changes seasonally, and we always lists the ingredients for each dish, so please take a look at our current menu to see which ones are gluten+ veggie friendly!
Question: Can we host private parties at the restaurant? 
Benchmark is available for large group lunches, dinners, and special occasions. Our private space, known as the PDR, is available to book and provides a quieter and more intimate environment for special events.
For all PDR inquiries, please fill out this form or send an email to info@benchmarkoc.com!
Question: How can we make a reservation?
We take reservations for up to 6 people. Feel free to make a reservation through our Yelp!
For parties bigger than 6 people, please call the restaurant at 714- 480-0225.
Question: Is there a kids menu? 
Yes! We have a select menu just for the kiddos 12 and under.
For all other inquiries, feel free to call the restaurant at 714-480-0225 or message us on Instagram.